Stranding Machine
---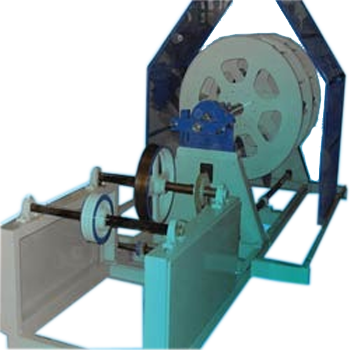 Introduction :
Our company is engaged in designing a comprehensive range of Wire Armouring Machine that is made in compliance to international quality standards. Offered at most competitive rates, these machines are suitable for fabricating metallic armour with the help of G.I. wire or G.I. Strip. The machines offered by us are well tested before supplying to clients.
We manufacture excellent machines for stranding Copper, Steel and Aluminium, Stranding uni-lay and reverse concentric, round, compressed, compacted or sector shaped as per customer requirements.We make stranding machines in different models and specifications like 1+ 6, 18, 24, 61 and 72 bobbins.
Advantage :
Self-supporting rigid rotor design for 1, 6, 12, 18, 24, 30, 36, 72 bobbins cage.
High efficiency and speed.
Bobbins mounted on heavy duty hardened pantiles.
Line drive by alternating currents (AC) with electronic or mechanical synchronization between line components.
Centralized lubricating system.
Multi-speed special gearboxes for each cage.
Heavy duty grooved, dual capstans for different configuration available.
Disk type manual or pneumatic brake for each cage.
Machines with or without back twist.
Instant stop on wire breakage through lashing ring.
MMI / PLC Equipped (optional).
Easy lay setting.
Batch loading - (Optional).
Range of Take-ups and Payoffs available.
Pre Former and Post Former Heads (Optional).
The machines offered by us have the same operational functions and mechanical structure as that of conductor twisting machine, wire twisting machine. The only difference is the number of Bobbins (spools) produced.