Plastic Grinder
---
Introduction :
Our special thick steel structure absorbs most of the load and noise. The unique vertical feeding system helps eliminate throwbacks and uniform material discharge. Different options of grind size offer 3 – 7 mm plastic grinds.
Separate designed hopper and granulating chamber can be separated easily, while large underbody is equipped with shock-absorber for maintaining stability during work.
OEC grinders offer a wide range of capacities (from 10 kgs/hr to 225 kgs/hr) with different mouth sizes.
Staggered cutting :
Our grinders have a unique staggered cutting design. This not only helps in smooth cutting but also saves on running cost as the load on the motor reduces.
The changing mechanism is ergonomically designed for faster removal and replacement of blades without wasting a lot of time. With extra replacement blades one can continue working on the grinder, while the blunt blades are sent for re-sharpening. Thus our grinders work more, getting you the best out of your money.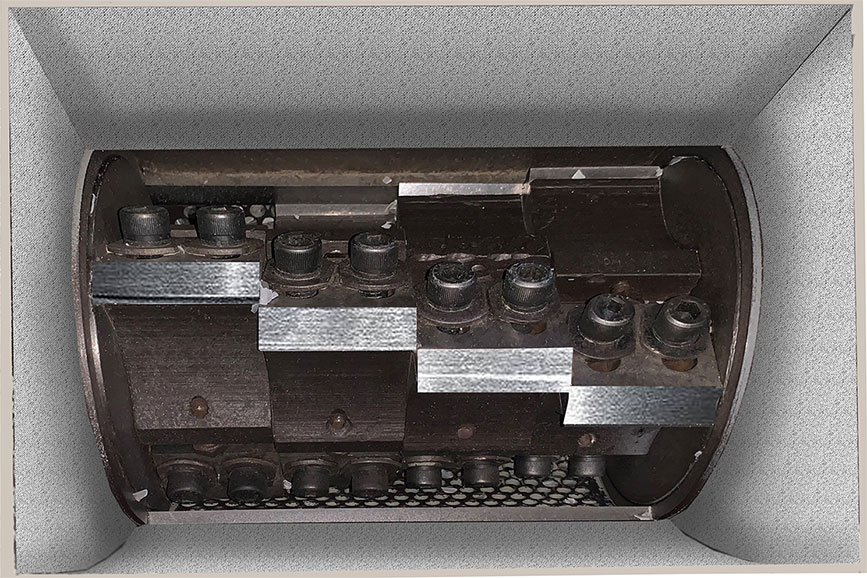 Specifications :
Model No.
Blade
Main Drive
Neck size
Capacity (Up to)
Stationary
Rotary
L x B (mm)
kgs/hr
OEC - 2008
2
6
0.75 kW
0.75 kW
50
OEC - 2010
2
9
2.24 kW
250 x 250
80
OEC - 2012
2
12
3.73 kW
300 x 300
150
OEC - 2015
2
15
7.5 kW
375 x 375
225
Advantages :
Low noise, low power usage.
Automatic power supply cut-off if ideal.
Staggered cutting for efficient power usage.
Suitable for continuous and batch grinding.
Revolutionary blade changing mechanism. Multiple rotary blades allows user to grind on selective blunt bades and cost effective replacements.
Lowest downtime.
Adjustable blades to cut various different materials.
Application scope :
Recycling of materials like PP, PA, LLDPE, HDPE, LDPE.
Recycling of PET bottles.
To crush all kinds of soft and hard plastic for plastic recycling industry.
Video :